What's New:
i've been tinkering with photoshop for quite a while now, so i thought i'd show off some stuff.
given the theme of the site and community, i'll just be uploading things i've done that relate to toonami or cartoon network.
One Piece:
FLCL (Fooly Cooly)
Trigun
and lastly Bebop. i'll admit that this one was from a long time ago. i took a picture that already looked awesome and did some minimalistic tinkering, so don't credit me for this one if you don't feel enough of the content is mine.
the bill and ted one you see in my current signature is also mine.
Gorgeous is excited about spending summer vacation with her father, until she finds out that his beautiful, freakishly serene girlfriend Ryouko would be going as well. Oshare decides she will be going to her aunt's house in the country instead. She brings with her her friends from school - Fanta (who likes to take pictures, and daydreams a lot), KunFuu (who has very good reflexes), Prof (who is a major nerd), Sweet (who likes to clean), Mac (who eats a lot), and Melody (a musician). However, the girls are unaware that Oshare's aunt is actually dead and the house is actually haunted. When they arrive at the house, crazy events take place and the girls disappear one by one while slowly discovering the secret behind all the madness.
Trailer: http://www.youtube.com/watch?v=NN0HVJ5tkIM
Wikipedia: http://en.wikipedia.org/wiki/Hausu
probably the first horror movie to ever come out of japan. it is extremely cheesy, yet has some moments of extremely cool camera work. all in all it's a mixed bag, but it was completely experimental for it's time. but like i said, it's pretty damn bizare. did i mention that it was originally thought of by the directors 7 year old daughter?
Toon's favorite movie has been made into a game:
http://www.newgrounds.com/portal/view/547307
Just thought that everyone would enjoy it.
I don't know who makes the custom spots (probably toon), but I think music that could be used in future spots might be an important thing to look into. This includes individual tracks, bands, etc. Also - I am going to say now;
THIS IS NOT A THREAD FOR MUSIC YOU LIKE.
This is purely a thread for music that fits with the flow of the old spots. The List:
I will update the list as suggestions come in, but I should let you know that I am probably going to ignore anything popular. Why? Well because Armin van Buuren doesn't exactly need exposure. Smaller, lesser known acts that fit the definition of the old Toonami sound will definitely be accepted over them.
IGPX, Immortal Grand Prix was a anime mini-series built around a tournament of 3-man team mech battles. Taking the story of a low tier team, Team Suzaku, that has won the chance to compete out of random draw. They must overcome their handicap, struggling with finances and their low tier mechs, being entered amongst the highest class division teams in the mech fighting industry. Sorry but saying much more may just cover the entire mini-series. It's a huge shame they didn't continue the series, and changed to the racing version (never bothered watchin after I saw the first episode)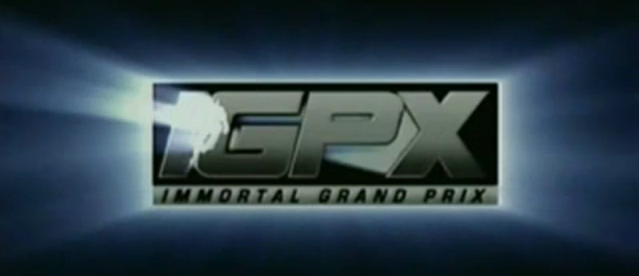 Very Useless, but wiki for guideline - http://en.wikipedia.org/wiki/Immortal_Grand_Prix
It's really short so...sadly this is the entire series.
ep. 1: http://www.youtube.com/watch?v=5Bbo-JzQ35U
ep. 2: http://www.youtube.com/watch?v=OetBrjTsfMY&NR=1
ep. 3: http://www.youtube.com/watch?v=oG1nM2DHjgc&NR=1
ep. 4: http://www.youtube.com/watch?v=vLyRJbKlsXE&NR=1
ep. 5: http://www.youtube.com/watch?v=_RjI7q0cGek&feature=related
I really don't know where or how this would ever fit in to the Toonami Aftermath lineup, but this was a genuine Toonami original production that was even co-produced by the production team of Ghost in the Shell. If this doesn't fit in, it's something all Toonami fans will enjoy a link to. It's a real shame they changed to that racing crap after creating such a great series. To those that haven't seen this yet, if you liked Zoids, you'll probably see this as a more badass version.
Well there, have been considering this topic for too long to care anymore...and note: DO NOT WANT, IGPX Racing $%&#
EDIT: OK guys, go ahead and post your favorite local restaurants and provide at least a one sentence description of each photo. Try to restrict it to more.... "unique" venues. No one wants to see pics of your favorite Mc Donalds unless it's got like a water slide or some shit in it.
Hey guys, thought I'd share a bit of local color with ya. It's a little place called Fat Sandwich Company.
There's only three locations nationwide, but if you have any buddies that live nearby one they could like.... freeze it and send you one or something. Here's the store front.
Here's some merchandise on the left, I can see me in this one.
Here's a few shots of the big menu on the wall.
and, of course, the Big Fat Ugly. If you can get this monster down in 15 minutes, it's free and you get a t-shirt or something. It's roughly the size of a football...... when it's wrapped up.
also there is a variety of soda, beer, and cigarettes to choose from.
When I got there this morning, I grabbed a "Hangover Helper" sandwich. It's slightly smaller than a normal fat sandwich, and I'll post picture of one the next time I go back.
This one in particular is 3 fried eggs, a hashbrown, cheese and bacon on an 8'' amoroso roll.
Here we have my favorite, the Fat Sooner. Here's a better look.
It contains Chicken Fingers, Mozzarella Sticks, and Maranara Sauce. Topped with french fries on an 8" asiago roll.
On the planet of Cybertron, war raged between the two factions known as the Autobots and the Decepticons over the race of smaller, power-enhancing Transformers called Mini-Cons. Seeking to flee the conflict that surrounded them, the Mini-Cons escaped Cybertron with the aid of the Autobots, but an attack by the Decepticons crippled the ship as it fled through a spacebridge. The ship materialized in the Solar System and impacted with the moon of Earth, breaking in two. One portion of the ship stayed embedded on the Moon, while the other plummeted to the planet below. The Mini-Cons, all locked in stasis panels, were scattered across the globe. The ship crashed to Earth and millions of years passed
Wiki info: http://en.wikipedia.org/wiki/Transformers_Armada
Toonami preview promo: http://www.youtube.com/watch?v=ZnZVbiy152A
Toonami Op: http://www.youtube.com/watch?v=UqkJJbkRZ9s
I personally think this should be part of Toonami Aftermath in the Giant Robo Block or Toonami's regular block cuz this is one of the best Transformers series that came out during the year 2000 with great animation, the awesome powers that the Minicons give to both Autobots and Decepticon, especially Starscream. and i love how the battles go on in the Unicron arc of the series and i personally missed watching this back on the Golden days of Toonami with TOM2
It has occured to me that many of the newfags are not entirely familiar with certain aspects about DB, DBZ, and most particuarly DBZ GT. Sooooo Im starting this forum to answer ANY question you have or anything you wanna know that your unsure on about the Dragonball Universe. Time for you bitches to learn.