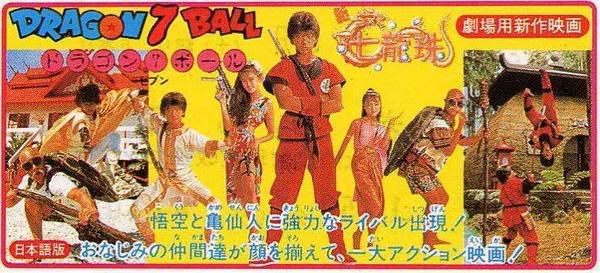 Dragon Ball: The Magic Begins is a Taiwanese film from 1991, loosely based on the Dragon Ball manga. What do I mean by loosely? Well, it tells the tale of Monkey Boy (oh yes) and his quest to stop an evil alien named King Horn from collecting all seven dragon balls, which would enable him to conquer the world. So there are some minor liberties taken, but the main story is familiar.
Now, this is not a four star movie (heh, get it? FOUR STAR?). We all know Dragon Ball live-action movies haven't had the best track record. This is why I'm recommending it; this movie, while renaming the characters and riddled with hokey special effects, absolutely captures the spirit of the Dragon Ball universe. It's light-hearted, goofy, and the characters portrayals are faithful to the original source... some maybe too faithful.
In my opinion, Dragon Ball: The Magic Begins is the only true live-action Dragon Ball movie, and it would be cool if more Dragon Ball fans were able to see this bizarre but lovable gem. It's just a fun movie to blow a weekend night on with friends, or fellow Aftermath faithful. It would be a great night on the chat, that's for sure.
Trailer: http://www.youtube.com/watch?v=sg9yUiY14_E
Entire movie (if you just can't wait til it's shown on TA): http://www.youtube.com/watch?v=Cdbf2dVfFVM&feature=related