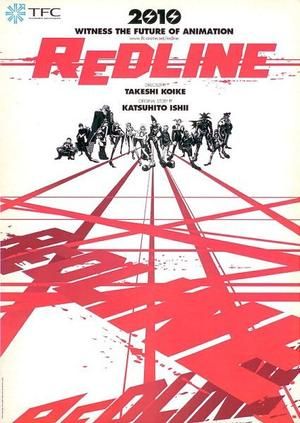 Description: Redline - the galaxy's greatest and deadliest illegal road race which takes part on a location revealed just before the race. This year, the race will take place on Roboworld, an isolated humanitarian planet, that greatly objects having their planet be used for some sport and deems any attempt to enter their atmosphere will be punishable by death.
The story follows behind racer Sweet JP, driver of a custom Trans-Am whose determined to enter the intergalactic race.
Be prepared this movie has a very strong kick (and baseline), if Speed Racer was an assault on your senses, this is a declaration of war.
Wiki: http://en.wikipedia.org/wiki/Redline_%282009_film%29
Trailer:
http://www.youtube.com/watch?v=WBB2D9nJWJw
(there are better trailers, but really it's about the movie)
and some music:
http://www.youtube.com/watch?v=doEwWzMz99A
Reason: I am simply shocked how this movie slipped right by without notice, but soon after seeing a trailer for it on a Blu-ray purchase I've been hooked and have already seen the movie 7 times. I always see Akira as my top movie, but this has passed it just from sheer energy. It can easily become a Toonami cult movie. Just be sure to play the English version, simply phenomenal.