What's New:
Puella Magi Madoka Magica
Description: After experiencing a bizarre dream, Madoka Kaname, a kind 14-year-old girl, encounters a magical creature named Kyube. Madoka and her friend Sayaka Miki are offered the opportunity of gaining magical powers if they agree to make a contract with the strange little being. He will also grant them one wish, but in exchange they shall risk their lives by accepting the responsibility of fighting witches. Invisible to human eyes, witches are catalysts of despair in the areas they inhabit. An ally of Kyube, a magical girl named Mami Tomoe, befriends and encourages the two girls to accept the contract. For an unknown reason, another magical girl named Homura Akemi is determined to prevent Madoka from accepting the deal.
Wiki: http://en.wikipedia.org/wiki/Puella_Magi_Madoka_Magica
Youtube: Trailer (<--- This kinda fails to express how artistic and bad ass this show is)
Reason: This is an awesome anime and trust me, it is way darker and more f****ed up than any other Magi-girl anime out there. I think it would be a wonderful addition to the schedule. This anime has a huge fan base made up of both males and females. Definitely check it out.
English Dub: Yes an English Dub is available.
Where on Schedule: Midnight Run
Episodes: English Dubs Here
I was just warned for replying to my own comment; which i will not argue because i should have edited my original post.
But I was curious about the Limitations of the Double Post rule.
Seeing as I have posted multiple times on my own topic before anyone has replied. I am curious as to how much time is allowed to pass before the Double Posting Rule no longer applies.
This was honestly the first time i can remember posting in quick succession on my own topic, but as i said, I am curious about the approximate amount of time between posts needed.
This is more of a clarification matter, because even though i have been using forums for years. slip ups are bound to happen, and a newbie is much more apt to make Double Posting mistakes even if the read the rules, because i honestly believe that Simply putting no double posting might be interpretted as " don't post the same topic twice, even if nobody replies to it the first time."
Thanks to the Staff ahead for the help.
*Edit* I also was wondering if its not so much the time in between posts, as it is the content of the reply, and its relavance to the previous post.
straight to business:
Freedom (OAV) ( <- links to AnimeNewsNetwork )
( Wikipedia, Freedom Project )
Plot Summary:In the year 2041, mankind created their first space colony on the moon. But after a freak cataclysm devastated human civilisation on Earth, the republic of the moon built a domed megalopolis known as Eden. Now in the year 2267, a boy called Takeru spends his time engaging in hover-craft races against rival street gangs, unaware that he is about to embark in the journey of unearthing Eden's origin.
( English video Trailer on Youtube )
There are seven episode/OVAs to this story, the approximate lengths are
Episode 1: 21 minutes
Episodes 2-6: 22 minutes
Episode 7: 45 minutes
My personal thoughts:
I watched this one last year and consider it somewhat of a hidden gem as it's not so well known, and also it's short length and general simplicity keeps it from standing out too much. But that's not to say it doesn't have it's own remarkable element. I could get into my own deeper thoughts, but I wont, the fact is you won't know your own opinion on this one until you see it yourself. Eitherway, I enjoyed this one and recommend it.
I will say the animation is different. Sort of a mix between traditional animation style and computer animated effects give it a 3d feel but it still feels like you are watching anime without any notice. I will say this poses no problem or is something you 'get used to'. Doesn't really add or subtract to anything in my opinion, just another medium to tell a story though.
Basically losing everything on death with no chance to run back and get it is a terrible idea. You might as well just play hardcore and a death is permanent. It'd be ok if Minecraft wasn't bugged as fuck, but it is. So I'm asking you Toon, will you please remove or alter the mod where you lose everything on death? It's just not cool. I just got killed because an enderman glitched in 2 ways. 1) aggroed when I didn't even look at it and 2) attacked me from about 4-5 blocks away. My internet was fine so it wasn't lag. It's just an example of how piss poor minecraft can be at times.
Btw, should have them stop taking off torches from walls too. At least imo the only ones that should are Zombies. Zombies at least are so easy they deserve that functionality, but everything else? nope.
I recently found this girl and I think her videos are pretty awesome even if she isn't 100% dead on with some her impressions.
If anything, she is entertaining.
So now I present to you all, brizzyvoices:
If you find it annoying, I apologize.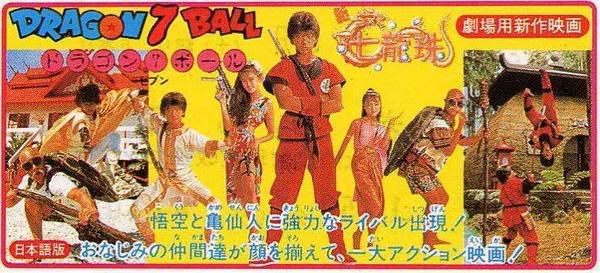 Dragon Ball: The Magic Begins is a Taiwanese film from 1991, loosely based on the Dragon Ball manga. What do I mean by loosely? Well, it tells the tale of Monkey Boy (oh yes) and his quest to stop an evil alien named King Horn from collecting all seven dragon balls, which would enable him to conquer the world. So there are some minor liberties taken, but the main story is familiar.
Now, this is not a four star movie (heh, get it? FOUR STAR?). We all know Dragon Ball live-action movies haven't had the best track record. This is why I'm recommending it; this movie, while renaming the characters and riddled with hokey special effects, absolutely captures the spirit of the Dragon Ball universe. It's light-hearted, goofy, and the characters portrayals are faithful to the original source... some maybe too faithful.
In my opinion, Dragon Ball: The Magic Begins is the only true live-action Dragon Ball movie, and it would be cool if more Dragon Ball fans were able to see this bizarre but lovable gem. It's just a fun movie to blow a weekend night on with friends, or fellow Aftermath faithful. It would be a great night on the chat, that's for sure.
Trailer: http://www.youtube.com/watch?v=sg9yUiY14_E
Entire movie (if you just can't wait til it's shown on TA): http://www.youtube.com/watch?v=Cdbf2dVfFVM&feature=related
What's up, my name is Raivu.
I'm 21, DJ/Producer, and I'm currently traveling the country living out of my backpack to pursue my career doing what I love to do and to chase my dreams.
(I make fluid hip hop beats, like Toonami DnB and Adult Swim hip hop)
I grew up with Toonami, and like many of you, I was completely heartbroken.
My buddy Wes told me to check out Toonami Aftermath, something I'd only dreamt would happen but didn't know existed.
For the last 3 days or so, I've been hopping on every night after work and check it out, reading your posts, and watching hours of non stop live stream Toonami.
lol I'm a DJ and a Producer.
I take my days to make music and get my set list ready for my next show, and relax during the night.
I'm staying with a couple of friends and saving up for a place until I play in Georgia this winter.
I can die happy now.
Yours truly,
Raivu
P.S. You all seem like great people. Don't be a stranger.
So being influenced by Tycho and Nujabes, I dove into the world of hip hop.
As a result, I've developed a strong desire to share my music and favorites with people.
What I make is a lot like Psyche Origami and Nujabes beats.
If you're interested in listening to it, check out my soundcloud.
This isn't so much as advertisement as it is gaining a mutual interest. I love other listeners and enjoyers.
Don't be upset when your favorite tunes go Mainstream.
That's just more people you have to share an interest with.
That's where peace comes from.
And that's what music breeds.
http://soundcloud.com/raivuofficial/usb-compatible
I have been browsing various forms of Jazz [being recently inspired by the anime Kids on the Slope (Sakamichi no Apollon) which all of you should watch] and came across some jazz versions of famous anime openings and various songs from Ghibli films. So, I ended up compiling a bunch of these songs into an easy to access playlist. I wanted to share this playlist with those of you who love Jazz and those of you who are new to the musical art form. Please enjoy the following selection compiled from various All That Jazz CDs:
And don't forget to check out Kids on the Slope.
Michiko & Hatchin
Description: After escaping from prison, the sexy criminal Michiko rescues an abused girl known as Hatchin. The two are about as opposite as they come, but their fates become intertwined through the connection of a man from both their pasts. On the run from the police and Hatchin's abusive foster parents, the unlikely duo set out to find this man and ultimately discover their freedom.
Wiki: http://en.wikipedia.org/wiki/Michiko_to_Hatchin
Youtube: http://www.youtube.com/watch?v=j2NFOnGoUKE
Reason: So I am kinda jumping the gun on this one, but this anime looks so cool that I just had to!! So from the creator of Cowboy Bebop comes Michiko & Hatchin. This anime totally has to Cowboy Bebop feel but only sexier! Funimation has finally announced a Dub. So, I am not saying we should show this right away, but it would be a fun addition to the line-up once it comes out.
Dub: Funimation has announced a dubbed version comming soon.
Schedule: Toonami Afterdark