What's New: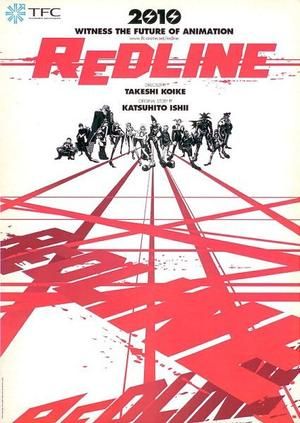 Description: Redline - the galaxy's greatest and deadliest illegal road race which takes part on a location revealed just before the race. This year, the race will take place on Roboworld, an isolated humanitarian planet, that greatly objects having their planet be used for some sport and deems any attempt to enter their atmosphere will be punishable by death.
The story follows behind racer Sweet JP, driver of a custom Trans-Am whose determined to enter the intergalactic race.
Be prepared this movie has a very strong kick (and baseline), if Speed Racer was an assault on your senses, this is a declaration of war.
Wiki: http://en.wikipedia.org/wiki/Redline_%282009_film%29
Trailer:
http://www.youtube.com/watch?v=WBB2D9nJWJw
(there are better trailers, but really it's about the movie)
and some music:
http://www.youtube.com/watch?v=doEwWzMz99A
Reason: I am simply shocked how this movie slipped right by without notice, but soon after seeing a trailer for it on a Blu-ray purchase I've been hooked and have already seen the movie 7 times. I always see Akira as my top movie, but this has passed it just from sheer energy. It can easily become a Toonami cult movie. Just be sure to play the English version, simply phenomenal.
You think we might be able to do some fan made bumps?
Hey gang. To my knowledge we only have two (really awesome) cartoon network city bumpers involving the mystery machine and Megas as well as the Samurai Jack/Johnny Bravo one at the cleaners. (do we have the car one with the professor, Dexter, and Numbuh 1? If so then maybe 3 is enough xD)
I was thinking we could maybe include one or two more, seeing as how the Cartoon Network City Bumpers (basically bumpers that all existed within a CGI city with all of the cartoon network cartoon characters in their 2d glory interacting with each other) are some of my fondest memories from cartoon network. They could be added during the cartoon cartoon block
Here are a few:
Parking Lot (with Heman, Chicken, Fred Flinstone, Speed Racer, etc
Sheep in the big cafeteria with a whole bunch of classic cartoon network characters
General QUICK Cartoon City Bump with lots o' characters
now I don't expect all of these, if any at all, to be added, because its hard to get the shows to start on time as it is, and im sure many think two is enough, I just REALLY love all of these shorts, despite them being not all that old, most of them coming out in the early 2000s. Anyway I thought it would be a cool idea to add more of em, during the Cartoon Cartoon blocks and such.
also I'm pretty sure that there aren't any threads made about this, I apologize if I missed one.
Anthem by RichieBranson
Also, can someone please tell me how to properly post a flash video? Its so confusing!
Just a little rant here becauuuuuuuuuse... I just tracked down and watched the 3 episodes of DBZ that died with the site on 5/4 and... well damnit, I wanted to see it here on TA with the chat! These episodes were golden! Just so ripe with commentary opportunities! I missed the extra coating of awesome the TA chat adds to these episodes!
Not to mention it was movie night and it just so happens this was one of the few DBZ movies I have not seen :/
OH and also Tien vs Goku in DB happed that day too D:
Anyway.
There
I vented
I feel better...
Now, why couldn't the chat have gone down Thursday when things were less interesting XD
http://en.wikipedia.org/wiki/Negima!_Magister_Negi_Magi
Few weeks ago, manga by this name caught my attention, and after I heard of it's anime version, I've decided to give it a try. Story revolves around junior mage Negi Springfield, who must accomplish his final task before he graduates - to teach English to all girl's school in Japan. Once he becomes homeroom teacher to 2nd A, all girls welcome him, except for Asuna Kagurazaka, who doesn't like the fact that ten year old replaced her favourite teacher. With all responsibilities, Negi now must fight against evil mages, vampires, and escape frantic chases of love stricken school girls.
http://www.youtube.com/watch?v=4R-dKeEsJ_Y  here is part 1 of first episode, showed on youtube
Since it's not long episode kind of anime, it would find it's place either in afternoon hours of mon-fri, or maybe on weekends.
Hey guys! My friend from starmen.net, Amzrigh, started up a "Let's Play" series last weekend called Throne of Games. He intends to stream the series live, broadcasting every Saturday around 7PM CST. With episodes uploaded to youtube the following day.
http://throne-of-games.blogspot.com/
Last week we LP'ed The Pandora Directive, of the Tex Murphy series of point and click adventure games with yours truly sitting shotgun. It ran kinda long (4+ hours), but I got the impression that future installments will be more condensed.
While we will continue the adventures of Tex Murphy next week, this week we shall LP Bastion. So give us a watch at Amzrigh's TwitchTV channel if you aren't too busy on Outlaw Star here on TA! Stay Gold.
Alright, I'm sure you have a song that gets stuck in your head from a game you play (or used to play). Then, you got to thinking: man... that song was addicting... I wonder if there's a remix of it. Lo, and behold, there were remixes of that song. So, this topic is based on you putting those remixes here.
Yeah, I did. I figured it was about time one of us started it right?
Here is the one I made:
And here is the template, so you can make your own:
http://www.animegalleries.net/img/20269
Spread it like wildfire! Feel free to post your own in this thread.